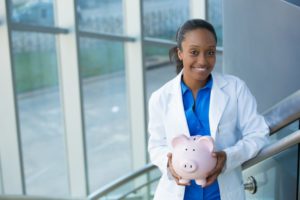 Imagine you're buying school supplies for your kids. You've just purchased enough notebooks, pencils, and markers to last them the whole year. Then, as you're leaving the store, you drop all of your bags into the trash can and walk away. You might think that you would never throw away your money like that, but that's exactly what you're doing when you don't use all of your dental insurance benefits before 2021. Keep reading below to learn three reasons why you should see your dentist in West Mobile before 2020 comes to a close.
1. You've Already Paid for Certain Services
Whether you pay them yourself or your job automatically takes them out of your paycheck, you're paying your premiums every month. This gives you a discount on many dental services. In fact, some of them might even be free!
For instance, the majority of dental insurance plans fully cover the cost of two checkups and cleanings a year. By not taking advantage of these appointments, you're paying money in exchange for nothing. If you haven't already seen your dentist twice this year, be sure to schedule another visit before the year ends.
2. Your Benefits Will Reset on January 1st
While your unused vacation days at work might roll over into the next year, dental insurance benefits typically do not. In most cases, you'll only be entitled to two checkups in 2021 even if you only attended one in 2020.
Each dental insurance plan has a set amount of money that you can spend on dental care ever year. This amount, called your yearly maximum, is usually between $1,000 and $1,250. That's a lot of money that can be spent on improving your smile. Since this money does not carry into the next year, it's important to use it now.
If you've already had your two annual checkups, now would be the time to take care of any dental work you need that you've been putting off, such as a filling or a crown.
3. An Ounce of Prevention Is Worth a Pound of Cure
Generally speaking, dental insurance is more likely to cover the cost of preventive care rather than treatment for damage that has already occurred. Why? Dental problems are much easier, and less expensive, to prevent from happening in the first place than it is to treat them later on.
You wouldn't throw away items you've just bought. Why would you do the same with your dental insurance benefits? If it's time for another checkup or some other dental procedure, don't wait until next year. Schedule your appointment today and get started on saving money!
About the Author
Dr. Hube Parker is a dentist in West Mobile, AL who earned his dental degree in 1993 from the University of Mississippi School of Dentistry and has practiced and Parker Dental & Orthodontics for more than 25 years. In that time, he has joined several professional organizations and even earned a Fellowship in the Academy of General Dentistry. His practice is in-network with many popular dental insurance providers, including Delta Dental and Cigna. To learn more about maximizing your insurance benefits, contact his West Mobile office at 251-304-9129.