Our Preventive Services in Mobile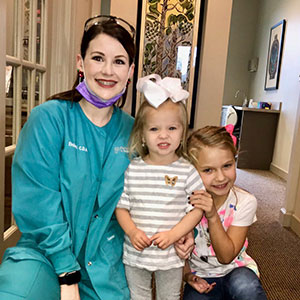 When it comes to your oral health and happiness, wouldn't it be better if you could stop problems before they even start? That's where the quality preventive care at Parker Dental & Orthodontics comes in. With routine check-ups, refreshing cleanings, and other available protective measures, you and your family have plenty of new reasons to smile. Contact one of our offices today to schedule your first appointment or if you have any questions for our dedicated staff. We have locations in Hurley, Vancleave, and Mobile, AL for your convenience, and our team of exceptional doctors can't wait to welcome you.
Digital X-Rays
Without X-rays, our doctors wouldn't be able to diagnose cases of infection or damage that exist under the surface of a smile. At Parker Dental & Orthodontics, we're happy to use digital radiography as an advanced method for capturing detailed images and fully understanding your oral health needs. Instead of having to tediously develop traditional X-rays in a darkroom, these digital files are available in a matter of seconds through our computer system, and our team members make adjustments to their size and color for educational purposes. Better yet, digital X-rays reduce the amount of radiation patients are exposed to by up to 70%.
Dental Sealants
Learning how to properly care for your smile at home can be a challenge for many children, especially when certain teeth are difficult to reach. Our team at Parker Dental & Orthodontics provides a helping hand with dental sealants. This plastic material is painted directly onto the chewing surfaces of the back molars, protecting tricky grooves and helping minimize the presence decay-causing food and bacteria. With sealants, your child can show off their growing smile confidently!
Oral Cancer Screenings
Oral cancer isn't as widely discussed as common cavities and periodontal disease, but that doesn't mean it's not dangerous. Tens of thousands of Americans are diagnosed with this condition every year, and nearly half of those people won't live more than five years past diagnosis. This is because most cases of oral cancer aren't caught until they've reached advanced, destructive stages. Our team takes this threat seriously, and provide oral cancer screening as a vital part of regular check-ups.
Custom Athletic Sportsguards
Do you participate in baseball, football, hockey, or another athletic event that involves possible contact with players or hard surfaces? Children and adults alike should be able to enjoy themselves in these situations without worrying about whether their smile might suffer. We provide customized sportsguards that fit comfortably and minimize the threat of damage. In fact, studies have shown that wearing a sportsguard may reduce the severity of concussions!
Nightguards
Bruxism (also known as teeth grinding) is a common condition among adults that leads to unpleasant consequences if left untreated including painful headaches, damaged teeth, or a diagnosis of TMJ disorder. Thankfully, our offices in West Mobile, University, Hurley, and Vancleave provide expert assistance with a customized nightguard. Patients simply wear this oral appliance while sleeping, and the tough plastic material forms a sturdy barrier against grinding that protects teeth.
Sleep Apnea Treatment
Do you feel exhausted during the day, no matter how much sleep you got the night before? Do you typically wake up with a headache or sore throat? These are common signs of sleep apnea, a potentially dangerous condition that affects overall health and wellbeing. Thankfully, our team may be able to provide the relief you need with a customized oral appliance. This device slightly repositions the jaw during sleep preventing breathing problems that cause sleep apnea and allowing you to rest easy.
Emergency Dentistry
Dental emergencies can be sudden, inconvenient, and extremely terrifying. If you or a loved one is in need of assistance, don't wait – contact Parker Dental & Orthodontics in Mobile, Hurley, or Vancleave for help. We do everything we can to see you on the same day as your initial call and provide relief right away. If you're unable to reach our office for whatever reason, we offer helpful information on how to manage your condition until you arrive.