Dental & Orthodontic Services for Southern Alabama & Mississippi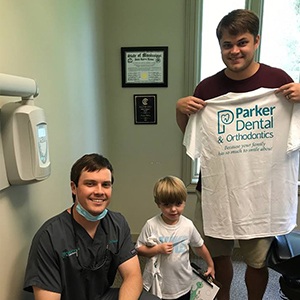 At Parker Dental & Orthodontics, we're dedicated to providing patients of all ages with the comfort, convenience, and exceptional care they deserve. Dr. Hubert Parker is an excellent doctor with plenty of experience and specialized training to go around, always taking the time to learn about you and gain a full understanding of your unique needs. Our facilities are modern and equipped with the latest in dental technology so your appointments are simple and precise. Best of all, we offer a wide variety of treatment options that benefit every member of your family, including orthodontic treatment, dental implant placement and restoration, restorative attention, cosmetic transformations, and much more. It's our goal to give you a lifetime of happy smiles!
Do you have any questions for our team? Are you ready to schedule an appointment? Contact us today! We have multiple locationslocations to choose from, including two in the Mobile, AL area, serving West Mobile and University patients, as well as multiple practices in Mississippi (Hurley, Vancleave, Biloxi and Pascagoula).
Our available services include: