Athletic Mouthguards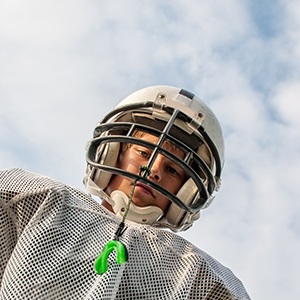 Sports related injuries are the leading cause of tooth loss for patients 25 and younger. Concussions and jaw injuries can lead to serious, life-long health issues. If you engage in any athletic event where your smile may come into contact with sports equipment, other players, or hard surfaces, the best way to avoid tooth loss, concussion, and jaw injuries is to wear the right protective equipment. Custom crafted athletic mouthguards from the skilled dentists at Parker Dental & Orthodontics are an effective determent for many head, neck and jaw injuries. If you want to learn more about mouthguards and other preventive dentistry services available from our dental care team, call to schedule an appointment. For your convenience, our team offers treatment in multiple locations – West Mobile and University, Alabaman and Hurley and Vancleave, Mississippi. If you want to learn more, you can hear Dr. Parker discuss the importance of consistently wearing an athletic mouthguard.
Why Should I Use a Mouthguard?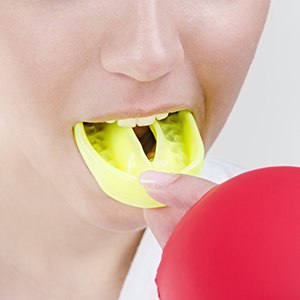 Mouthguards significantly decrease the patient's risk for oral and facial trauma during any athletic event or competition. A patient who comes to see us with a cracked or broken front tooth may end up paying $1000s to keep their smiles healthy and functional over their lifetime, but investing in a custom sportsguard, can save you from spending the money as well as allowing you to avoid the pain and negative impact on confidence.
What Sports Require Athletic Mouthguards?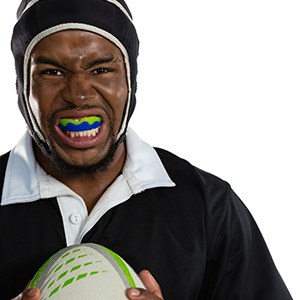 We recommend patients check in with us if they're not sure whether or not they should use a mouthguard. The sports, like football, that require athletes to wear mouthguards are not our main concern. Instead, we see most of our oral health issues from patients who play boys and girls basketball, baseball, and softball. Some other sports where mouthguards are recommended include:
Volleyball
Wrestling
Rugby
Hockey (ice/field)
Swimming
Can Sportsguards Protect Me from Other Injuries?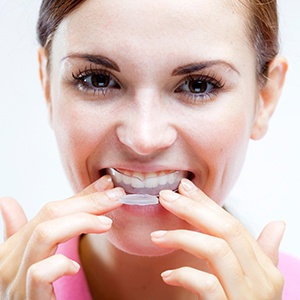 In addition to protecting teeth from breaks and preventing soft tissue injuries, custom mouthguards can also reduce your risk for head, neck, and jaw injuries. Studies are still underway to prove beyond a doubt the connection between decreased incidence and impact of concussion and mouthguards, but there are several studies that report sportsguards help to limit the adverse impact of concussion. Mouthguards may also relieve jaw strain that can occur during stressful sports events, leading to increased risk for TMJ dysfunction.
Should I Use a Store Bought or Custom Sportsguards?
Any mouthguard is better than skipping this protection altogether. However, custom crafted appliances offer superior comfort and coverage. Store bought appliances may look like your dentist's custom sportsguards, but they are made from lower quality materials. A custom sportsguard is crafted to protect your unique smile from trauma that can occur during athletic events and practices. They have the proper amount of cushion to keep the jaw in a comfortable position limiting risk for jaw and neck injuries that can occur from improper bite position.
Why Should I Bring My Child to Visit Dr. Parker for a Mouthguard?
Dr. Parker is a parent with kids who play sports themselves, and he knows personally the importance of using the proper protective equipment. For this reason, he invites parents, trainers, and coaches to reach out to one of our office locations to schedule an appointment for their child to receive a free custom mouthguard. These appliances are customized to their unique oral structures as well as crafted to meet the needs of the sports they play. The entire process is completed in just two visits. We capture a mold of your child's smile at the first appointment, and then, you can come back to pick up the appliance about a week later.