Dental Check-ups & Cleanings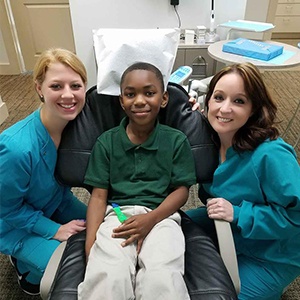 One of the most crucial elements of maintaining a healthy, happy smile is attending regular check-ups and cleanings at Parker Dental & Orthodontics. Even diligent brushers and flossers fall victim to serious and subtle dental problems – that's where our staff of dedicated doctors and compassionate team members come in. Our goal is to help you feel more confident about your smile than ever before! Please contact us today if you have any questions or would like to schedule appointments for you and your family. We have multiple convenient office locations to choose from in Mobile, AL, serving West Mobile and University patients, as well as in Vancleave, MS and Hurley, MS.
Thorough Evaluations
During your routine check-up, our team's goal is always to fully understand your smile's unique needs. We accomplish this with a visual examination that includes the surfaces of each tooth, the gums, the bite, the jaw, any existing restorations, and other nearby structures that relate to your oral health. Digital X-rays are valuable in helping us view the areas that aren't accessible to the naked eye, and periodontal and oral cancer screenings are informative as well. Once we've completed these steps, one of our doctors recommends services and creates a treatment plan, if needed.
Refreshing Hygiene
Dental patients of all ages have plaque, a sticky substance filled with bacteria that forms over teeth. While this can be cleared away easily with diligent brushing and flossing, areas that are missed begin to form hard deposits (known as tartar) that endanger your oral health and can't be removed through regular at-home hygiene. That's where a professional hygienist comes in! At Parker Dental & Orthodontics, one of our excellent team members thoroughly cleanses teeth and gums of plaque and tartar, leaving your mouth feeling refreshed.