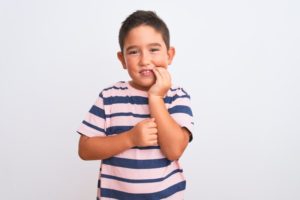 No matter how old you are, dental emergencies can be stressful and scary to handle. If your child is experiencing oral pain like a severe toothache, the first thing you should do is always contact your emergency dentist in Mobile. Even if the thought of going to the dentist makes your child anxious, it's important to act quickly to save their smile. Plus, children's dentists offer sedation techniques to help your little one feel comfortable and relaxed while they're being treated. If your child has a toothache and you're not sure what to do, read on for tips and tricks to help minimize their pain and prevent additional damage from occurring.
Reasons Why Your Child Could Have a Toothache
There are many reasons why your child could have a toothache. Oral pain can be caused by something as small as a lodged popcorn kernel or an issue as serious as a tooth infection. In any case, it's important to contact your children's emergency dentist in Mobile if you're unsure of what you should do. It's good to know what the possible causes of your child's pain is, so you can take the necessary steps to ease it. Here are some issues that could be causing their discomfort:
Emerging teeth
Broken & chipped teeth
Loose cavity fillings
Enamel erosion or tooth decay
Food stuck between teeth
A tooth infection
Tips to Ease Your Child's Pain at Home
While you're either waiting for your emergency appointment or you're on your way to the dentist's office, you can ease your child's discomfort and help them relax by following these tips:
Don't panic and speak to your child in a calm tone.
Reduce swelling in your child's face by placing a cold compress on the affected area.
Provide your little one with children's over-the-counter pain medication.
Have your child rinse their mouth with lukewarm salt water.
Gently floss and brush your child's teeth to remove any lodged debris.
Taking Them to the Emergency Dentist
When your little one's pain persists despite gently flossing and brushing their teeth, it's important to contact their children's emergency dentist. There, they'll receive warm attention in a comfortable and calm environment that helps ease their nerves as well as their pain. If your child is incredibly anxious, they also offer different sedation techniques to help. After a thorough inspection of their mouth, their dentist will determine the root cause of their pain and develop a customized treatment plan to help restore the health of their teeth and gums.
Emergency children's dentistry may seem daunting, but it can help ensure the wellbeing of your little one's teeth and gums as well as get rid of their pain. With hands-on guidance and a team that's comfortable working with younger patients, you can rest assured that they'll be well taken care of.
About the Author
Dr. Hube Parker has helped patients of all ages achieve healthy and beautiful smiles since he graduated Magna Cum Laude from the University of Mississippi School of Dentistry in 1993. He dedicates a portion of his free-time to continuing his education in general, pediatric, and cosmetic dentistry. This helps sharpen his skills and allows him to create a caring and warm environment for children to receive high-quality emergency and preventive dental care. For questions or to schedule an emergency dental appointment, visit Parker Dental & Orthodontics' website or call 251-342-2324.