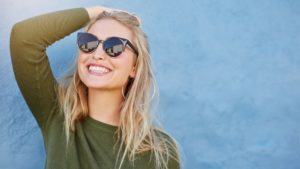 If you're like most people, you couldn't be more excited that summer is just about here. Or, at least, you would be if you didn't feel self-conscious about the stains on your teeth. It can be hard to enjoy lazy days by the pool and backyard barbecues with friends and family when you're worried about what others think of your smile. That's where your cosmetic dentist can help with professional teeth whitening. Plus, summer is the best time of year to get your teeth whitened. Here are four reasons why.
Be Ready for the Camera
Your loved ones will almost definitely want to capture special moments in photos this summer. If you're insecure about your pearly whites, chances are you instinctively shy away from the camera. After all, the last thing you want is to see that a friend posted a picture of you on social media with visibly dull or yellow teeth. Once you get your teeth whitened by your dentist, you'll always be ready to flash your smile when the camera comes out.
Boost Your Confidence
When you're around your closest friends and family members, you might feel relaxed because you know they accept you no matter the color of your teeth. But do you tend to hold back from smiling when you meet someone new? That's a good sign that you should consider teeth whitening. You'll be able to smile brightly no matter who you meet this summer.
Look Younger
Your teeth may not seem like a major part of your appearance, but they matter more than you might think. In fact, studies have shown that when meeting someone new, one of the first things most people notice is the other person's smile. By getting your teeth whitened, you'll make a better first impression. You'll also look years younger because your pearly whites will pull attention away from pesky little wrinkles that may be developing elsewhere on your face.
Enjoy a Simple Yet Effective Treatment
Many cosmetic dentistry treatments require multiple trips to your dentist's office, but not teeth whitening. In fact, the process only takes two quick visits that can easily fit into your schedule. First, your dentist takes impressions of your teeth to design your custom whitening trays. Then, simply return to their office when the trays arrive from the dental lab. From there, all you have to do is wear the trays with an ultra-potent bleaching gel for a few minutes a day. You should have a dramatically brighter smile after about two weeks!
Are you ready to impress people with your smile this summer? Schedule an appointment with your cosmetic dentist to find out if professional teeth whitening is right for you!
About the Practice
At Parker Dental & Orthodontics, we provide a variety of dental services for the whole family at our two Alabama locations and four Mississippi locations. Our dentists are proud to offer personalized teeth whitening treatments that are several times more effective than any product you can find in stores. Visit their website to learn more about how teeth whitening can make this summer one to remember!