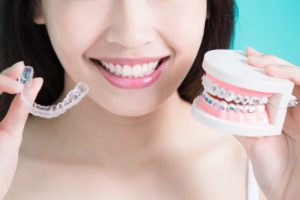 Straight teeth do a whole lot more than make you feel confident and attractive. They also make your teeth healthier in the long run, leading to lower dental bills later on. If you're considering orthodontic treatment, you might feel overwhelmed by the sheer number of options available these days. Metal braces and Invisalign clear aligners are two of the most popular solutions, but how can you choose which one is right for you? Read on as we compare Invisalign vs. braces to help you make that choice!
How Braces Work
Traditional braces involve metal brackets being cemented onto the surface of each tooth. A metal archwire is then maneuvered through these brackets. Because the wire wants to maintain its original shape, it naturally shifts your teeth into more aligned positions.
Pros of Braces
There are plenty of reasons to get traditional braces, such as:
The brackets cannot be removed, so there's no need to worry about losing an aligner.
Braces are often more effective than Invisalign at addressing severe orthodontic issues.
While the cost of braces and Invisalign are comparable, braces are more likely to qualify for insurance coverage.
Cons of Braces
Of course, braces come with some drawbacks, including:
The average treatment time with braces is two years, compared to the 12- to 18-month average for Invisalign.
Braces often cause more sensitivity, soreness, and irritation.
It can be difficult to brush and floss around the brackets and wires.
Braces come with a list of foods you shouldn't eat due to the risk of damaging a bracket.
How Invisalign Works
Invisalign works by wearing a series of clear plastic trays for 20-22 hours a day (only removing them to eat, drink, or clean your teeth). Each pair of aligners, which is worn for about two weeks, is designed to shift a small section of your smile at a time until the whole thing is perfectly even.
Pros of Invisalign
Patients with Invisalign are happy to sing its praises, which include:
The aligners are practically unnoticeable once they're placed over your teeth, so you don't have to sacrifice your professional image.
Because the aligners are removable, you can brush, floss, and eat like you would normally.
The smooth plastic is less likely to irritate the soft tissues in your mouth.
Invisalign treatment usually takes less time than braces.
Cons of Invisalign
That said, Invisalign comes with its fair share of disadvantages, like:
To keep your aligners in good condition, you'll need to clean them daily and brush and floss after every meal and snack.
Since the aligners can be removed, there's the risk of misplacing them and setting your treatment back.
Patients with extremely misaligned teeth may not achieve the results they want with Invisalign.
Invisalign vs. Braces: Which One Is Right for You?
The choice between braces and Invisalign ultimately comes down to you and your orthodontist. By scheduling a consultation, the two of you can go over your unique needs and preferences. They'll be happy to help you figure out the best way to enjoy a straighter, healthier smile!
About the Practice
Our team at Parker Dental & Orthodontics provides comfortable, caring dental care in a professional environment. We have four convenient locations in Mississippi and two in Alabama, and we gladly provide Invisalign as well as braces. To find out which solution is best for you, visit our website.