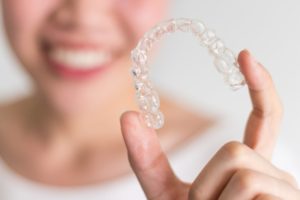 The holidays are upon us, and it can be easy to get wrapped up in decorating, meal planning, and gift giving. But another task you should be mindful of is staying on track with your Invisalign treatment. Wearing Invisalign is typically more convenient than traditional braces, but some still find it difficult to maintain a good schedule to care for their aligners, especially during one of the busiest times of the year. Here are a few tips to help you avoid any setbacks in your treatment this season.
Brush and Floss Before Inserting Your Aligners
It can be easy to get a bit lazy during a holiday break or while on vacation, but keeping up with your regular dental hygiene is crucial to your Invisalign treatment. Brushing and flossing after every meal to remove any food particles will keep your teeth healthy and prevent your aligners from clouding with bacteria. One way to make things easier is to always keep a travel-sized dental kit with you. If you can't brush your teeth, keep a fresh bottle of water handy. Once you finish eating, you can swish the water around to help remove food before you reinsert your aligners.
Remove Your Aligners When Eating or Drinking
You don't have to remove your aligners when drinking water, but taking them out when consuming hot beverages or eating will protect your trays from damage. Hot drinks, like apple cider or tea, can warp your aligners and hinder your progress. If you accidently wear your trays while eating, the force used when chewing can end up breaking them.
Keep Your Invisalign Case Accessible
It may seem harmless to sit your aligner trays on a dish or napkin while you eat, but this is not a good idea. If they are left sitting out, they are exposed to bacteria that can cause odors or make you sick. This can also make it easier for them to be lost or accidentally thrown away. Be sure to keep your aligners clean and protected by always storing them in their case when they're not in your mouth.
Set a Reminder to Clean Your Aligners Regularly
Cleaning your dental trays on a regular basis is crucial to your oral health. This helps them maintain one of their best attributes: their invisibility. To clean them, gently brush your aligners with a soft-bristle toothbrush to remove any plaque or food particles. When soaking them, make sure you're using warm (not hot) water and the cleaning crystals recommended by your dentist or denture cleaning tablets.
Having Invisalign during the holidays doesn't have to be stressful. If you follow these tips, maintain your regular oral hygiene and make sure to wear your aligners for at least 20-22 hours each day, you'll achieve the beautifully straight smile you want right on schedule.
About the Author
The team of dentists at Parker Dental and Orthodontics have dedicated themselves to providing patients with high-quality dental care. Each doctor is a member of professional dentistry organizations, including the American Academy of Cosmetic Dentistry, the American Dental Association and more. Using modern techniques and technology, they offer a wide range of dental services like extractions, sedation dentistry and Invisalign treatments. To learn more, visit the website or contact the office at (251) 342-2324.