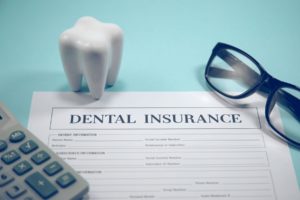 Brushing and flossing are effective at keeping cavities and gum disease at bay, but the American Dental Association also recommends a cleaning and checkup every 6 months. Although you know you're supposed to visit your dentist, no one can afford a dental bill right now. However, when it comes to your smile, your oral health needs aren't an area to pinch pennies. You can invest in healthy teeth and gums, even if money is tight. Here are 4 ways you can save money using your dental insurance.
1. Schedule a Cleaning and Checkup
Semi-annual cleanings and checkups aren't a luxury, but a necessity to safeguard your smile from preventable dental problems. As a result, you will avoid tooth loss and costly procedures down the road. Research has found that you can save $50 on emergency and restorative treatments for every $1 spent on prevention. Paying your monthly premiums for your dental insurance gives you access to 100% preventive coverage, so you can see your dentist twice a year after a co-payment.
2. Don't Delay Dental Work
If your dentist finds a concern, like a cavity, don't put your treatment on hold if you're worried about the cost. A small issue can turn into a big problem, like an expensive dental emergency. You can avoid unnecessary expenses using your dental insurance. After meeting your annual deductible, you can use your yearly allowance to pay 50% to 80% of the cost of common restorative services
3. Choose the Right Dentist
Your dental insurance will recommend a dentist in their network to enjoy more coverage at the time of services. They are pre-negotiated rates with preferred dental practices. You can visit any dentist that accepts your coverage, even if they are out-of-network. You'll have to pay the difference between the office fees and your policy's allowed coverage.
4. Don't Wait Until It's Too Late
Your dental benefits don't last forever. They reset at the end of the year and you'll lose anything you don't use. You won't be reimbursed for your premiums or deductible, and nothing carries over to the following year. Less than 3% of people meet or exceed their annual allowance, which means you could throw hundreds to thousands of dollars down the drain.
No Dental Insurance? No Problem!
If you don't have dental insurance, you have options to keep a healthy smile affordable, like joining an in-house membership plan. You'll benefit from discounted rates for common services, like cleanings and checkups.
You can also pay any out-of-pocket expenses using a monthly payment plan through a third-party financing company, like CareCredit.
A healthy smile is more affordable than ever. You can invest in your oral health without breaking the bank.
About Dr. Tyler Wheeler
Dr. Wheeler achieved his dental degree from the University of Mississippi Medical Center and has regularly undergone advanced education in many specialties. He strives to keep his services affordable for everyone. Besides accepting dental insurance, he also offers an in-house savings plan. Contact our office today to request an appointment.