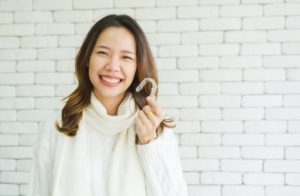 What's worse: crooked teeth or metal braces? If you have a misaligned smile, you might think you need to choose one or the other. Thanks to Invisalign, you don't! Invisalign in West Mobile offers a way to discreetly straighten your teeth using clear aligners that are virtually unnoticeable. But how does it work? Is there a way to speed up the process? Find out the answers to these questions by continuing to read below.
What Is Invisalign?
Invisalign is a set of clear plastic trays that you wear over your teeth for at least 22 hours a day. They apply a gentle pressure to your teeth that gradually shifts them into the desired straight position. You can take them out whenever you eat a meal or snack. Simply brush your teeth before reinserting them to keep them clean.
What Are the Benefits of Invisalign?
Invisalign has several advantages over traditional braces, such as:
Removable. You can take out your aligner trays whenever you eat. This means that they come with none of the dietary restrictions of braces. You can also remove them to brush and floss, which makes taking care of your general oral health a whole lot easier.
Discreet. No one will even be able to tell you're wearing your aligners, especially if you keep them clean and free of stains. Unless someone sees you remove your trays at lunchtime, your orthodontic treatment will be a secret.
Shorter treatment time. On average, Invisalign only takes 12 months to fix a crooked smile, as opposed to the 18 to 24 months that braces average.
Is Invisalign Right for Me?
If you have mildly to moderately misaligned teeth, then Invisalign would benefit you. It can fix most orthodontic issues in teenagers and adults, including:
Overbite
Underbite
Crossbite
Gaps between teeth
Rotated teeth
Crooked teeth
Although the treatment might sound perfect, there is one catch: you have to be committed to wearing your aligners for at least 22 hours a day. You can't just put them in whenever you feel like it and expect your treatment to be finished in a timely manner.
Is There a Way to Speed Up the Invisalign Process?
Wearing your aligners for the prescribed amount of time daily is the fastest way to speed up the process. For more details, contact your local dentist's office.
If you're tired of having a misaligned smile but don't want to deal with the awkward restrictions of braces, ask your dentist if you would be a good candidate for Invisalign.
About the Author
Dr. Hubert Parker graduated magna cum laude from the University of Mississippi School of Dentistry in 1993, and has practiced in Mobile, Alabama for more than 25 years. He is a member of several professional organizations, such as the American Academy of Cosmetic Dentistry, the Alabama Dental Association, and the Mississippi Dental Association. He has also earned Fellowship status with the Academy of General Dentistry. If you would like to straighten your smile with Invisalign, contact Dr. parker at (251)-634-2341.