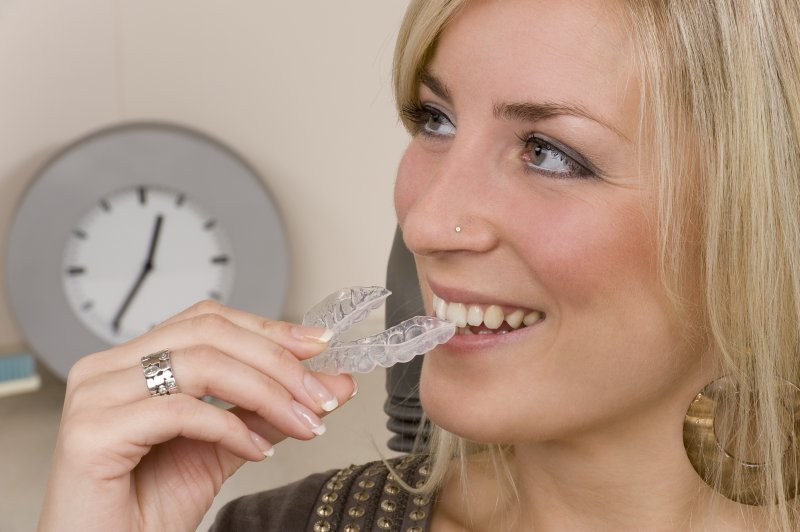 You're unhappy with your bite imperfections, and you want to have your teeth straightened. The problem is you're not very eager about the idea of wearing traditional braces. Thankfully, you have two forms of orthodontics in West Mobile as possible options: Invisalign and ClearCorrect. Learn what each has to offer and how to find out if you're a good candidate for either procedure. Then, prepare to receive the smile of your dreams!
How Does Invisalign Work?
The Invisalign method is rapidly gaining in popularity because it offers patients a discreet way to correct their bite. The process begins with a consultation with your cosmetic dentist, at which time your teeth will be assessed, and digital X-rays will be taken.
If you're considered eligible for the procedure, the data will be sent to an Invisalign-certified lab that will fabricate a complete set of aligner trays. Then, when they're ready, you'll be invited back to the office to retrieve them.
Here are a few points you should know about the procedure:
You'll need to wear each set of trays for two weeks, and then you'll discard them for the next set in the series.
The trays will need to be worn for at least 20-22 hours a day to ensure you maintain your progress.
The trays should be removed before eating food or drinking any liquid other than water.
You should prepare to perform oral hygiene more often than normal when undergoing treatment with Invisalign.
The ClearCorrect Method Explained
An alternative to the Invisalign procedure is a similar method called ClearCorrect. Like the former, it too uses clear aligner trays that are worn for 22 hours a day.
However, the two procedures differ in two areas: cost and thickness. While the Invisalign method has been around longer, if you're more cost-sensitive, the ClearCorrect method may be better for you.
Another variable to take into account is the thickness. You should expect Invisalign aligner trays to be a little thicker than the ClearCorrect version, which could result in a more durable solution.
The Importance of a Consultation
If you're considering either method of bite correction, you'll first need to visit your dentist for a consultation. Thus, the professional can make sure you receive the right type of care to meet your smile needs.
To accomplish this, he or she will be looking for such problems as severe crowding, upper front teeth protrusion or crossbite (lateral misalignment), that may be better-corrected with traditional braces.
It's your right to have the smile of your dreams, but the process can only get underway by first reaching out to your local dentist to schedule a consultation today!
About the Author
Dr. Hube Parker is a graduate of the University of Mississippi School of Dentistry, and he has been providing the absolute best in dental care to the Mobile area for over 25 years. As a representation of his dedication to excellence, he gives back by serving as a part-time instructor at the UMC School of Dentistry. Dr. Parker creates beautiful smiles with Invisalign and ClearCorrect at Parker Dental and Orthodontics, and he can be reached for more information through his website.