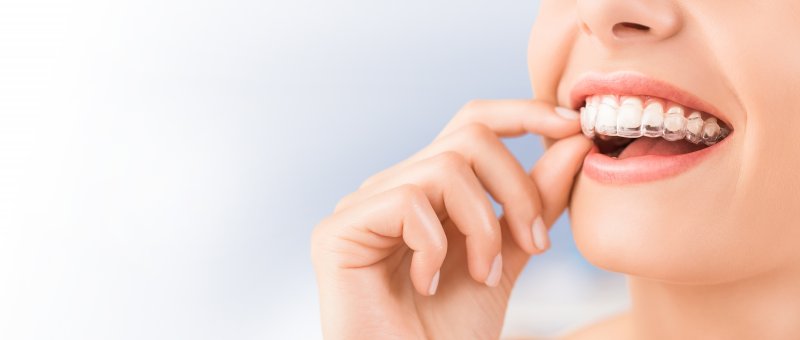 Are you looking to achieve your dream of having a beautifully straightened smile? If so, then you may be considering all the alignment treatments that are available. Aside from traditional braces, you're probably considering going with Invisalign in West Mobile due to its clear appearance. Although Invisalign may seem like the perfect orthodontic option, it's important to know what to expect before jumping straight into the process. Here are a few things to consider before choosing Invisalign.
What Should I Know Before Getting Invisalign?
It can be exciting to know there's an alternative to traditional braces, but it's important to understand all aspects of treatment before choosing Invisalign. Like any dental treatment, Invisalign comes with its own challenges. Here are several things you can expect with Invisalign:
22-Hour Wear Time: For the Invisalign to properly function, it is recommended for them to remain in your mouth for 20-22 hours each day. Unless you're eating, you'll essentially keep the aligners on.
Potential Weight Loss: Given a 22-hour wear time, this gives you 2 hours to eat several meals a day. Due to the aligners' tight hold on the teeth, it may be difficult to repeatedly take the aligners off. This can affect your eating habits and lead to potential weight loss.
Attachments Stain Easily: Drinks like coffee or tea can stain the attachments fairly easily. The best remedy is to brush your teeth repeatedly throughout the day, especially in between meals or whenever particles get in your teeth.
Cold Water Only: Drinking hot, sugary, or alcoholic drinks with Invisalign can warp or stain the aligners almost immediately. Best to avoid these types of beverages and switch them with cooler drinks, or cold water.
No Teeth Whitening: The chemicals from teeth whitening solutions can ruin the aligners, especially if using abrasive substances. Normal brushing is recommended instead.
What About the Benefits of Invisalign?
Now that you know some of the things to expect from Invisalign, you're probably wondering about the good parts. Fortunately, there are still obvious benefits to this orthodontic treatment.
Invisalign is removable, meaning you won't have to worry about dietary restrictions or have difficulty brushing or flossing.
Invisalign is still less noticeable than traditional braces.
Invisalign offers a faster average treatment time of 12 months compared to traditional braces.
Though Invisalign offers a more convenient orthodontic treatment, understanding what you can expect can help clarify any misconceptions you have. You'll be better prepared when you meet with your dentist and plan for a great smile!
About the Practice
Parker Dental & Orthodontics is located in West Mobile and University, AL, as well as Hurley, Vancleave, Biloxi, and Pascagoula, MS, where Dr. Hube Parker and his team are dedicated to providing the highest quality dentistry. With dental restoration and education in mind, Dr. Parker welcomes any questions on orthodontic treatments and offers Invisalign treatment. If you wish to know more on Invisalign, visit his website or call 251-634-2341.