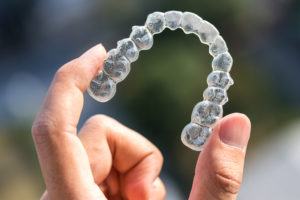 A smart suit and a firm handshake can go a long way in projecting a polished and professional appearance in the workplace. However, are you able to smile confidently when meeting new acquaintances or giving an important presentation? It can be difficult to feel confident if you are worried others might notice your crooked, gapped or misaligned teeth. Fortunately, thanks to modern orthodontics it is possible to straighten your smile without the unsightly metal brackets that harken back to your middle school days. Want to know more? Here are some key facts and benefits of Invisalign clear braces.
What is Invisalign?
Invisalign is a modern alternative to traditional orthodontics. The treatment works by using a serious of transparent, plastic aligners to slowly move teeth into the desired position. The aligners are custom-designed to apply just the right amount of pressure to gently straighten crooked or misaligned teeth.
Successful Invisalign treatment relies on patients wearing their aligners for 20 to 22 hours a day, or as directed by their dentist. Each set of aligners is worn for approximately two weeks before being exchanged for the next set in the series.
4 Benefits of Invisalign Clear Braces
Invisalign clear braces offer a range of benefits compared to traditional metal braces, including:
Greater Comfort – The smooth, plastic aligners do not aggravate the inner cheeks and gums in the way that metal braces sometimes do.  
Invisibility – The transparent plastic aligners are virtually unnoticeable when being worn. The only people who will know you are undergoing Invisalign treatment are you and your dentist!
Removable – Traditional braces are attached to your teeth for the entire treatment, but Invisalign aligners are easily removable. This means you can take them out to eat, drink and brush your teeth normally.
Convenience Factor – Invisalign treatment requires fewer trips to the dentist – typically once every 4 to 6 weeks – so you do not have to worry as much about interrupting your busy schedule.
Am I a Good Candidate?
If you have more serious dental care issues like severely rotated teeth or a deep overbite, your dentist may recommend more traditional orthodontic treatment. However, Invisalign is an excellent solution for a wide range of common dental imperfections, such as:
Mild overbites or underbites
Moderately crooked teeth
Overcrowded teeth
Gaps in teeth
Improper tooth position when the mouth is closed
You do not have to feel like you are back in middle school to correct the imperfections in your smile. Talk to a dentist today about whether Invisalign clear braces are right for you!
About the Author
Dr. Hube Parker has over 25 years of experience helping patients achieve the beautiful straight smiles of their dreams. The University of Mississippi School of Dentistry graduate has completed thousands of hours of continuing education to stay on top of the latest developments in modern dentistry. Patients unsatisfied with the appearance of their smile can visit the Parker Dental & Orthodontics website or call Dr. Parker at  251-634-2341.