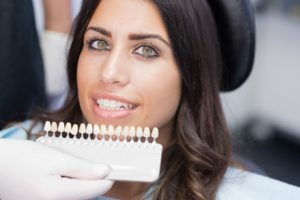 Do you have chipped, cracked, crooked, or discolored teeth? Do you have gaps between your teeth? You might benefits from veneers, a cosmetic dental treatment that is booming in popularity. Your cosmetic dentist in West Mobile can place these shells over your teeth to hide pretty much any imperfection and give you the smile of your dreams. But how can you make sure they stay in good condition? Keep reading below to learn more.
What Are Veneers Made Of?
Dental veneers used to be made of composite resin, a material very similar to what is used to fill cavities. However, in recent years, porcelain has become the material of choice, for a few reasons:
Porcelain reflects light more like a natural tooth
Porcelain is more resistant to stains
Veneers are thinner, meaning less enamel needs to be removed
How Do Veneers Stick to Teeth?
First, your dentist will remove a thin layer of enamel from the front surfaces of your teeth to make room for the veneers. This is a lot less invasive than getting crowns or bridges, as it requires less enamel removal. Then your dentist will create impressions of your bite, and place temporary veneers to protect your teeth while your permanent ones are being made in a lab. You will return to the office in about two weeks, and voila! Your new smile is then attached with a special bonding agent.
How Can I Keep My Veneers in Good Shape?
Veneers last about a decade on average before needing to be replaced, but with regular brushing and flossing, they can last several years longer. Although veneers are much stronger than natural teeth, they can still chip or crack. Make sure to protect your smile by wearing a mouthguard during sports to prevent injury. In addition, try not to use your teeth for anything besides biting and chewing. Using your teeth as tools to open or carry things can make them more likely to be damaged, requiring your veneers to be replaced sooner than planned.
What Happens If My Veneers Break?
As with any dental emergency, the first thing to do is call your dentist and let them know of your situation. Collect and safely store all of the parts if the veneer is broken. Your teeth may be sensitive to hot and cold temperatures, since they have no covering. In the meantime, gently brush your teeth with desensitizing toothpaste or take an over-the-counter painkiller like ibuprofen for relief.
Veneers should rarely if ever break, especially if you take proper care of them. IF you are interested in a brand-new smile, ask your dentist about porcelain veneers today.
About the Author
Dr. Hubert Parker has practiced in Mobile, Alabama for more than a quarter of a century. He has earned a Fellowship with the Academy of General Dentistry, and is a member of several other professional organizations, including the American Academy of Cosmetic Dentistry and the Academy for Sports Dentistry. To learn more about reinventing your smile with veneers, contact Dr. Parker at (251)-634-2341.