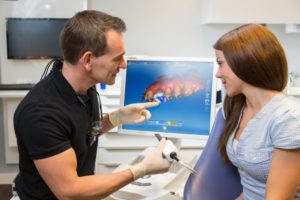 Crowns are an incredibly common restoration. In fact, a study done in New York City found that out of 270 adults over the age of 55, 40 percent had crowns. They're a vital part of ensuring that your teeth stay healthy and protected from further damage down the road. The only issue is, it can take weeks and multiple appointments to get them placed. A dentist in Mobile offers CEREC same-day crowns so patients can get their restoration crafted and placed all in the same visit. Read on to learn more about this advanced dental technology and how it came to be.
What is CEREC Technology?
The acronym CEREC stands for Chairside Economical Restoration of Esthetic Ceramics. It's a new technique that utilizes CAD/CAM technology that was first introduced to the dental world about two decades ago. These are systems that use a special camera to take virtual impressions and images of teeth for a software program to craft a crown or restoration from.
In the late 90s, this software was introduced and allowed for same-day creations of inlays, onlays, veneers, and crowns to be crafted in as little as an hour. The most recent CEREC technology is more refined, detailed, and precise than the one first introduced in the 90s and contains the quality of an entire commercial dental laboratory in a single milling machine.
How are CEREC Crowns Made?
Traditional crowns require multiple visits because impressions need to be sent off to a dental laboratory in order for your restoration to be crafted. The CEREC process brings the laboratory right to your dentist's office to craft a precise-fitting, quality ceramic crown in as little as an hour. The process takes place over a visit that lasts slightly longer than a routine cleaning and checkup. Your dentist will:
Use an intraoral scanner to capture a digital impression of your treated tooth and take photos of your mouth.
Send this digital impression to the CAD/CAM software to create a model restoration.
Send the final design to the CEREC milling machine to craft the physical crown from a block of ceramic in no longer than 15 minutes.
Polish and match the color of your crown with your existing teeth.
Permanently place your precisely-fitted crown onto your restored tooth.
What are the Benefits of Same-Day Crowns?
Oftentimes, patients become concerned with the fact that these restorations are crafted over such a short period of time. The good news is that this doesn't impact their quality at all. CEREC crowns look and feel like your natural tooth. The technology used to craft them creates an incredibly precise design that fits comfortably over your tooth, and with good oral hygiene, they can last just as long as a traditional crown (up to 15 years).
In a single visit with your dentist, you can have your tooth treated and restored. This way, you won't have to worry about squeezing two appointments into the same month. CEREC technology adds convenience and quality together to create a long-lasting restoration that will save you hassle, time, and money.
About the Practice
At Parker Dental & Orthodontics, we want our patients to receive the most convenient and high-quality treatment possible. That's why we equip our office with the latest advanced technology in the dental world like CEREC technology. This way, our patients don't have to place their oral health on the back burner because their schedule is too busy. For questions or to schedule an appointment, visit our website or call 251-634-2341.